If you are looking for an AUTHENTIC Birria Taco Recipe, then look no further because Taco Correspondent Uncle Chico gives you the full history behind this epic Taco, along with his own recipe for making the best Birria Taco Recipe on the web! Check out all of Uncle Chico's recipes including his Tikin Xic (Yucatan Grilled Fish in Banana Leaves), Summer Corn Riblets, or Cemita Poblana and don't forget to give him a follow on instagram!
———————————-
Social media, especially Instagram, helped launch birria quesatacos into the culinary atmosphere, gaining a devoted following and stretching taco stand lines around the nation. It's filled our social media feeds, blogs and TikTok videos with succulent birria tacos being dunked in rich consommé. And now, you can learn how to make birria tacos yourself.
Birria Quesatacos Origin Story
Birria is a food that was born out of hunger. Nestled between Lake Chapala and Guadalajara, in the state of Jalisco, is Cocula, birthplace of birria, which in gastronomic terms means an "exquisite savory dish, full of culture and tradition."
Originally, birria was made with goat meat. In the 16th century, the Spanish conquistadors brought livestock and traditions that would change the culinary makeup of Mexican cuisine forever. Pigs, chickens and cattle were among those animals that became welcome staples in Mexican cooking, however the goats were not as welcome. They bred quickly and roamed freely destroying the indigenous crops. Goats were an indirect reason for famine and hunger for the natives.
Goats began to be used as a food source to counteract this problem. The Mexican people used fresh herbs and chiles to counteract the strong smell and gamey taste of the meat, and it was cooked in underground kilns to make it extra tender and more palatable.
As with most food, each family has their secret birria recipe that is closely guarded. Birria has also evolved, now being prepared with lamb, beef, goat and pork. It is a celebratory dish offered to loved ones at special occasions and family gatherings.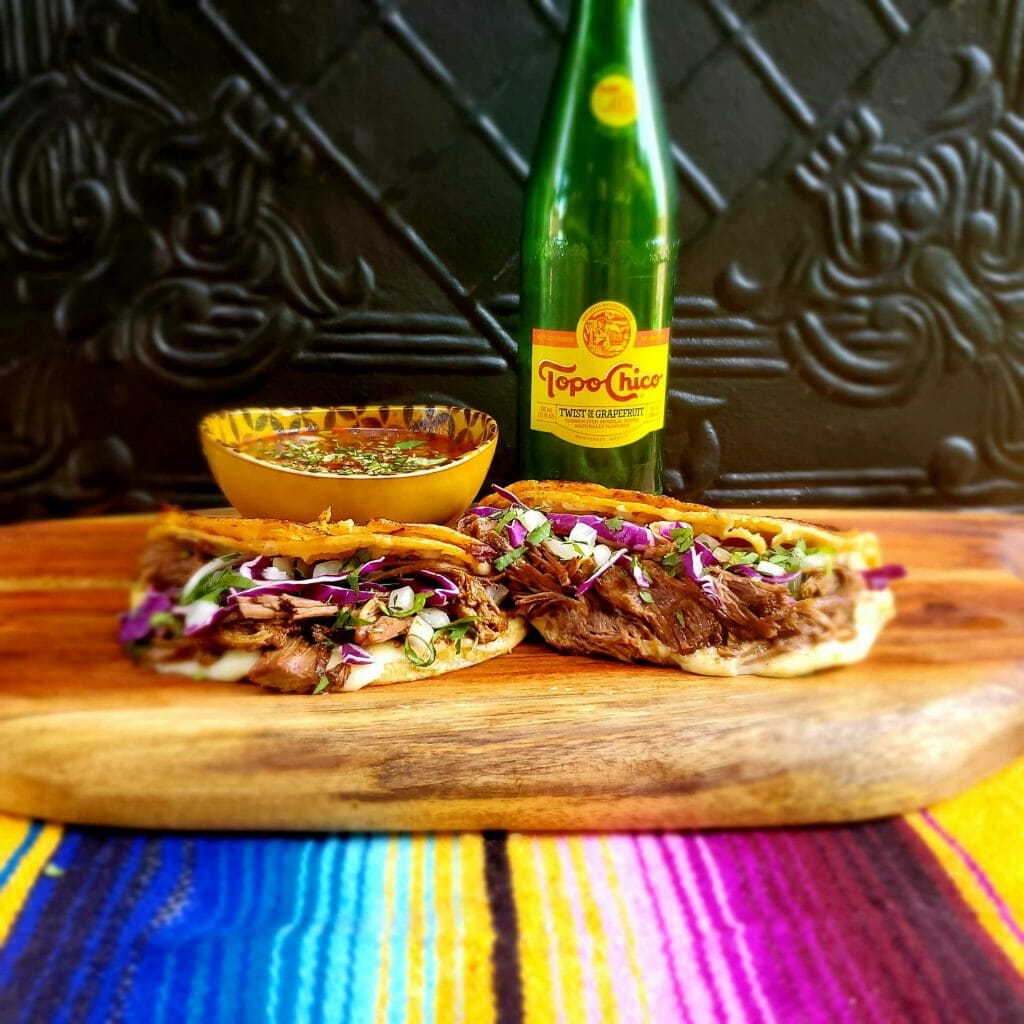 Birria is typically a morning dish, as it is cooked all night. It is also well known as a magical elixir and cure for hangovers after a night of drinking—I like to call it Mexican penicillin. To this day, the streets of Jalisco are lined with stands, carts and pop-ups ready to serve this Mexican "soul" food.
Legend has it that Don Guadalupe Zárate is the "godfather" of birria, bringing his family recipe from his hometown south of Mexico City to the Tijuana taco stand scene in the '60s. He changed his recipe to include beef, as it was more readily available and added extra liquid to ensure it was extra juicy. He sold his stew, which became a local favorite.
Modern day birria and the Birth of the Birria Taco Recipe
Birria slowly gained momentum but always had stiff competition with asada, carnitas and al pastor filling the majority of taco stands in Tijuana. The tides for birria would slowly change around the 2000s when young Mexican Americans with passion and energy desired to bring the flavor of birria to local communities in Los Angeles. They saw a need both for those longing for that taste from home and also giving Angelinos something new and exciting to eat.
Omar and Oscar Gonzalez and Teddy Vaquez were amongst the first pioneers opening Birrieria Gonzalez and Teddy's Red Tacos around 2015 and 2016. They were so well received in the food truck community selling traditional birria, tacos and Americanized versions adding mounds of cheese (because who doesn't love cheese?).
And the best part is the culinary evolution that happens when you mix birria with other cultures. Modern day birria now includes birria pho, quesatacos (tacos dipped in consommé and fried on the flat top with copious amounts of cheese), huesa-tacos (birria topped with bone marrow), birria fries and birria pizza.
How to make Birria Quesatacos
For those of you who don't know me, I love tacos and BBQ like a fat kid loves donuts. In fact, my motto has always been, "Forget love, I'd rather fall into tacos!" Living in Southern California where the sun always shines, I am blessed to have that grill and smoker rollin' most days.
I decided to fuse my two loves, BBQ and tacos, into a killer Birria Taco recipe that can be done on any grill or smoker. It imparts smoke, chiles, herbs, cheese and Mexican beer! I use a combination of bone-in beef short ribs, beef shanks and New Zealand leg of lamb. The lamb is robust and earthy, and the marrow from the shanks intensifies the flavor of the consommé and packs in the flavor of the meat.
The meat is seared hot and fast in a Dutch oven, soaking up hints of mesquite and cherry wood after being marinated overnight in an adobo of Guajillo, Ancho and Cascabel chiles, then braised low and slow until the meat falls of the bone and becomes soft and delicate, absorbing all those beautiful flavors. Modelo Negro adds another layer of complexity, adding sweetness and fruity notes with roasted caramel notes and really makes the consommé broth a thing of beauty.
The yellow corn taco is finished by dipping it in that chile infused consommé and frying it on the flat top with ooey gooey queso Chihuahua, loads of birria meat, and topped with cilantro, onions and a big squeeze of lime!
To dunk or not to dunk, that is the question.
No need to answer, though, because I'll be checking your IG and hitting that "like" button, as I begin drooling at the sight of that succulent, stuffed birria meat submerged beneath that slow-braised broth. Don't mind that melty cheese that pulls apart in long strands and sticks to your chin. So get your Instagram and TikTok ready for that dunk shot!
Is birria overrated and over hyped? The taco stains on my shirt and the smile on my face says, "Heck, no!" As we say in Spanish, "Barriga llena corazón contento" — full belly, happy heart.
Love, peace and taco grease!
Uncle Chico
Print
Smoked Birria Quesataco
---
For the Adobo:
6

guajillo chiles

3

ancho/pasilla chiles

2

cascabel chiles

2 tbsp

. white vinegar

1 tbsp

. adobo sauce from canned chipotles in adobo.
Meat seasoning:
1 tsp

. Kosher salt

1 tsp

. cracked black pepper

1 tsp

. Mexican oregano

¼ tsp

. cloves

¼ tsp

. cumin

½ tsp

. thyme

¼ tsp

. cinnamon ( Mexican canela preferred)
Meat:
2

lbs bone-in cross cut beef shank

2

lbs bone-in short ribs

2

lbs boneless leg of lamb

1 cup

water

1 cup

Modelo Negro beer

1

white onion peeled and rough chopped

2

bay leaves

8

garlic cloves peeled and finely diced
Garnish for tacos:
1 cup

diced onion

1 cup

chopped fresh cilantro

2 cups

queso Chihuaha or queso Oaxaca, shredded on grater

1

half cabbage
Lime wedges to squeeze on tacos
---
Instructions
Prepare the adobo:
Begin by removing the stems of the chiles, removing the seeds and splitting them open.  Lightly toast them on each side on a griddle or pan over moderate heat making sure not to burn them.  May be 10 seconds on each side.
Rehydrate chiles by covering them with hot water for 10 to 15 minutes to soften them removing them and adding them with the vinegar to the blender to make your paste.
Mix the rub for the meat:
Add dried herbs in a small mixing bowl until well combined. Season the meat with the rub mixture
Marinate Meat:
Utilizing half of the paste spread the meat with the paste and cover with plastic in the fridge overnight if possible. The longer the better as the marinade will help flavor the meat; I believe this is a key component.
Cook meat:
Preheat grill/smoker to 450 degrees and get wood chunks to begin smoking.  I prefer Mesquite as it's native to Mexico and cherry for the color and hint of sweetness but any wood will work.  If you are not using smoke, then just preheat grill or oven.
Using a heavy Dutch oven, add 2 tbsp. high heat oil like avocado or grape seed oil and sear each side of meat making sure a good crust is developed.
Adjust grill temperature to about 350 degrees and remove meat.  Add a small rack so the meat can be elevated above the liquid that will be added.
Add water, beer, onions, bay leaves, garlic, and remaining adobo paste.
Cook first hour uncovered then cover with lid for 3 more hours.
Preparing Consommé:
Remove the cooked meat to chop to wanted consistency. I like mine roughly chopped to maintain some texture.
Remove the bay leaves and add 2 cups water or beef broth to make extra consommé for dipping.
With an immersion or blender blend in batches to make smooth.
Preparing the Quesataco:
Preheat griddle or flat top on medium to high heat.
I add one tortilla fully dipped in consommé and add it to the flat top. A second tortilla is added on top without being dipped.  This will help the taco stay together and maintain its structure.
A small handful of cheese is melted separately, and when fully melted, carefully scoop up with a spatula and place on top of the tortilla.
The meat is generously added then a small ladle of consommé is poured on top of the meat.  I like to fold mine in half like a quesadilla and get it toasty on both sides.
The finishing touches:
Open the taco and add onions and cilantro and a big squeeze of lime.  I also like to add cabbage for extra crunch and freshness.
Notes
Pro tip: If you can, spread the paste over the meat and leave in the refrigerator overnight. It will help flavor the meat!
Did you enjoy this recipe? Check out these other taco dishes!