I cannot believe how quickly this year has flown by! It's already almost Christmas? Wow. And you know what that means — it's gift time. Woo hoo!
If there is a foodie, outdoor cook, or grilling guru in your life, this Holiday Gift Guide is for you!
This is the 10th year of my annual GrillGirl Gift Guide. Can you believe it? I started the tradition in the early stages of this site to share some of my favorite BBQ and grilling products.
Running this website involves testing a ton of outdoor cooking items like grills, accessories, rubs, sauces, and more. This gives me the unique opportunity to share some of my tried-and-true products and some new favorites too.
I hope you love these grilling gift ideas as much as I do! What are some of your favorite cooking products? Let me know in the comments and let's chat about it!
*****
Great Grills 
GREEN MOUNTAIN GRILLS PELLET SMOKER
The Green Mountain Grills Daniel Boone has been my favorite pellet smoker for the past few years for good reason: it makes adding smoke flavor to anything just so darn easy!
Green Mountain Grills competes with the likes of Traeger Grills, but unlike Traeger, Green Mountain Grills are not available in "Big Box" stores. You can buy Green Mountain Grills directly from dealers, which ensures you get great customers support and knowledge about your new pellet smoker. It's a fantastic company run by great people.
The company has also made some really cool upgrades to their grills, giving the pick of "Prime" versus "Choice." Each is a great option depending on your personal taste and budget! 
Cost: $249 and up
Buy Online from Green Mountain Grills
WEBER MASTER TOUCH SERIES KETTLE GRILL
I've always said a Weber Kettle is the "democratization of grills." That is to say, you can cook ANYTHING on a Weber Kettle Grill. You don't need a super pricey smoker to make tasty food!
And I'm LOVING all the great colors they've come out with for the Weber Kettle Master Touch Series, including the sexy Ivory one I cooked on while competing at the WFC Fire Woman Challenge this year. If you've been thinking of cooking on a charcoal grill, the Weber Master Touch colors such as the Slate Blue, Smoke or Deep Ocean Blue will look great on your patio.
What makes these worth the extra money over an Original Weber Kettle are features that make grilling that much more enjoyable like: the lid holder, the upgraded cooking grates that make it easier to do multiple-zone grilling, and easy one-touch cleaning. 
Cost: $249
MASTERBUILT GRAVITY SERIES GRILL AND SMOKER
I got a chance to see this grill for the first time while I was competing at the World Food Championships in 2019 and was very impressed.
Masterbuilt and Kamado Joe have joined forces as one company and this new grill is the first product the company has put out.
This is essentially a new grill in its category. The Masterbuilt Gravity Series combines the ease of use of a pellet smoker and electric smoker with the flavor of cooking on charcoal. It's amazeballs.
This gravity-fed charcoal grill and smoker is brand-spanking-new on the market, so I do not own one yet. I hope that changes soon! After seeing it in person, this impressive new cooker is definitely on my Christmas list!
Cost: $497
*****
Helpful Grilling Accessories
JJ GEORGE GRILLING TABLE
When you have a Big Green Egg or a Kamado-style smoker they often don't come with the best tables. This sturdy utility table is a solution.
The cedar tables from JJ George are an awesome addition to your grilling line-up as they are super functional and transform your Kamado into a full grilling station. They will look very pretty great on your backyard patio.
Cost: $699
GrillGrates have really taken off recently and for good reason — they ensure you will get kick-ass char marks while also ensuring you are getting more even cooking from your grill, essentially creating infrared heat.
These are very popular on the Steak Cookoff Association (SCA) circuit, but GrillGrates are also great for bringing renewed life to an old grill with really crappy worn-down grates.
You can make your old grill last longer if you get a pair of GrillGrates. Find the type that's best for you!
Cost: $39 and up
EGGSPANDER
Eggspander is a super smart "Egg-cessory" that really helps you maximize the space in your Big Green Egg, enabling you to cook multiple dishes at once.
The Eggspander accessory is a 5-piece rack system starter kit available for the large and extra-large Big Green Egg.
GrillGirl.com contributing writer and resident Big Green Egg "Eggspert" Jon Solberg wrote a detailed review of the Eggspander to read if you want to learn more.
Cost: $209
I've been a big fan of the Flame Boss ever since I helped make their first product video back in the day. Flame Boss has continued to evolve to be the best smoker controller on the market.
The Flame Boss 400 essentially babysits your cook — allowing you to monitor meat and smoker temp (it comes with a fan that can keep your flames going!) and control the whole thing on your phone while you go do other stuff.
It essentially enables you to get shit done while smoking meat. How useful is that? Now if only it would babysit my child!
Cost: $219
LODGE CAST IRON COMBO
For anyone who loves to cook, the gift of cast iron is the gift that will continue to give for years to come because cast iron can be kept in the family and only gets better with time.
The Lodge brand has come out with a lot of new shapes and styles for cast iron cooking. I am really loving the 10.25 inch pan with a lid so I can fry, braise, sauté, or even bake, all in one pan!
The Lodge Cast Iron Combo sold on Amazon.com includes all the essentials you'll need to start cooking with cast iron.
Cost: $69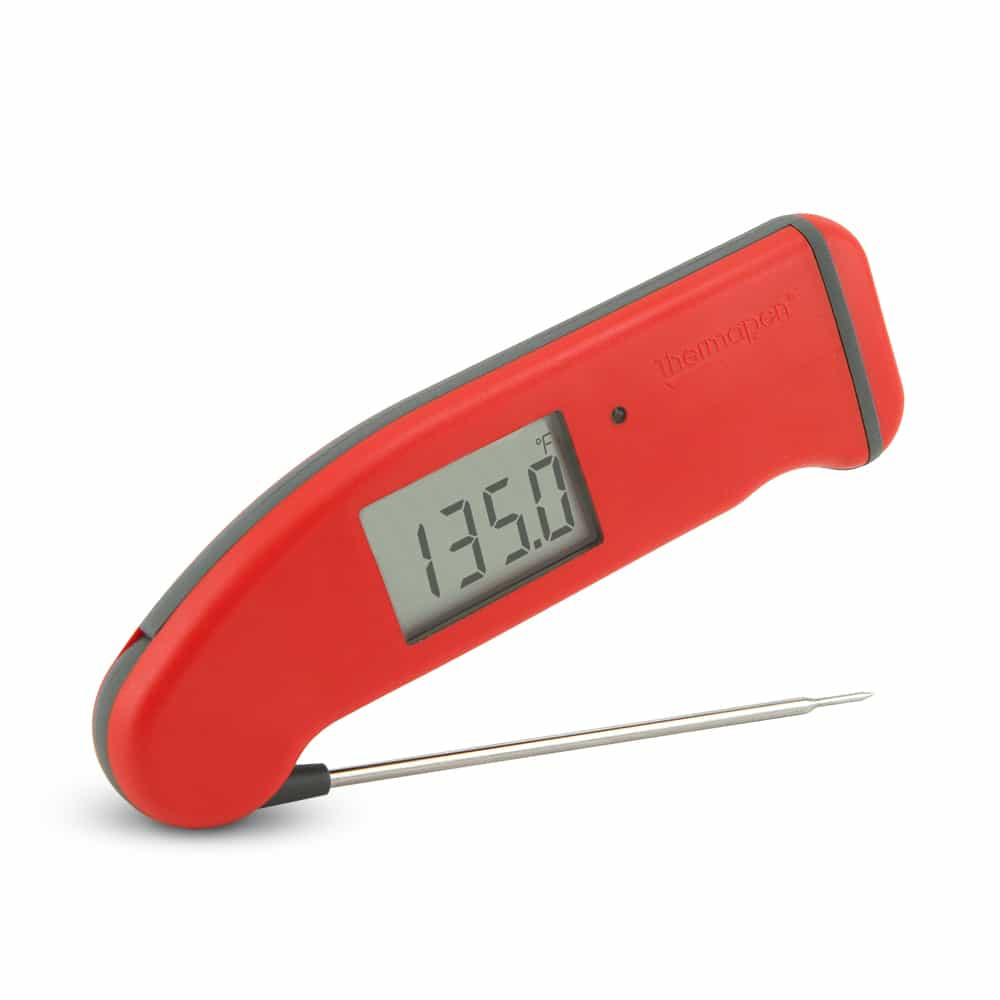 THERMOWORKS
I list the ThermoWorks Thermapen and the Thermopop meat thermometers every year because if you don't have an internal read thermometer then how the heck are you even cooking?
Get a ThermoWorks thermometer and start grilling meat and all things perfectly! This versatile device can be used for all cooking applications, including frying.
Pick one up now and you'll thank me later!
Cost: $34 and up
*****
Gifts That Give Back
BLACK RIVER BBQ RUBS
This charitable rub company features a line-up of unique spice mixtures handmade in Flagstaff, Arizona by owner Mike Boyd.
His flavor-packed Back in Black Rub was created to support wildland firefighters. A portion of proceeds go to the Eric Marsh Foundation, which benefits those firefighting heroes and their families in the event of a line of duty death or trauma.
The Back in Black Rub includes activated charcoal so it adds a nice black crust to steaks and other food, which makes for a sexy presentation when you pull your meat off the grill. Give it a try!
Cost: $10 and up
Buy Online from Black River BBQ
BARBECUE BOY TOYS 2020 CALENDAR
This 2020 BBQ pin-up calendar by Veterans Q is just too damn funny!
I love that Veterans Q created a calendar with pitmasters, including Mikey "ManMeat BBQ" Key, in boudoir poses. They also released one in 2018.
All the profits from Veterans Q products like this unique calendar, and their rubs and sauces, go to helping military veteran organizations. Now that is a cause I can support!
Cost: $9
*****
Eat, Drink, Be Merry
FLAVIER SUBSCRIPTION
Flavier ships you curated quarterly subscription boxes that you choose, giving you an opportunity to sample new craft and small-batch spirits.
In addition, you get the opportunity to try a full bottle of alcohol of your choosing, as well as socialize with other spirit enthusiasts and attend member-only events. The 1920s speakeasy look and feel of the site is pretty darn cool, too.
This is what I gifted my husband Scott for Christmas and I think it will be the gift that continues to give!
Cost: Starting at $25 a month
WAGYU TOMAHAWK STEAK PACKAGE
For the person with discerning taste who already has everything, the gift of good quality meat from Snake River Farms is something any foodie can appreciate.
American Wagyu from Snake River Farms offers unrivaled marbling, which means the beef is juicy and tasty as fuck.
The meat lover in your life will sure appreciate a special Snake River Farms steak package like this!
Cost: $250
Buy Online from Snake River Farms
*****
Lastly, my Healthy Electric Smoker Cookbook!
If you haven't checked out my Healthy Electric Smoker Cookbook yet, now's a good time to pick it up on Amazon when you're filling your shopping cart with other grilling gifts.
I appreciate all of you. Thanks to those who bought my cookbook, purchased products using my affiliate links, and supported me in so many other ways. I couldn't do it without your support!
I hope you have a Merry Christmas, a fantastic holiday season with your loved ones, and a Happy New Year!