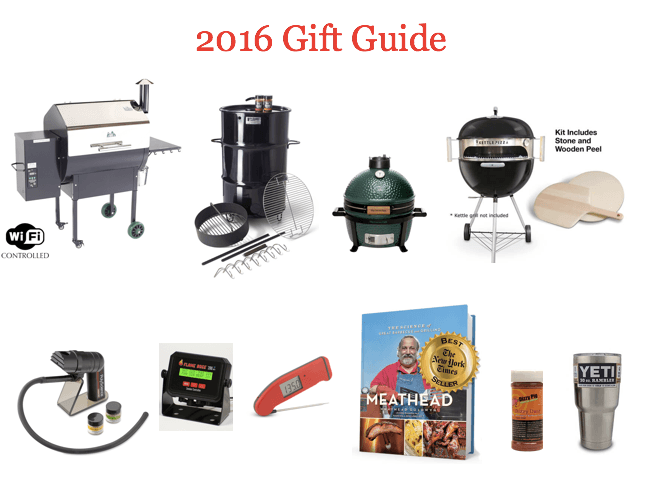 I'm keeping it short and sweet this year! Most of these gifts can be bought on Amazon prime so if you are looking for last minute gifts, you are in luck as they will arrive in 2 days. As far as the grills go, some may also be bought at your local deal which is always a great experience. Everything on this list I have personally used and recommend!
GRILLS
1) Green Mountain Grills Daniel Boone Pellet Smoker
People are in love with Pellet smokers for good reason. They are just so darn easy to use and give awesome results. You can literally "set it and forget it". A pellet smoker works using compressed wood pellets for fuel that give a wonderful smoky flavor. You load up the smoker with your pellet flavor of choice, plug the grill in, set your temp, and let the Pellet smoker do its thing. No need to worry about temperature fluctuations, etc- it's all maintained. I have the Green Mountain Grills Daniel Boone series that is wifi enabled so you can track your cooks from the handy app on your phone! It also comes with a built in temperature gauge so it will monitor the internal temp of the meat for you essentially eliminating the need to plug in a remote temperature controller. WE LOVE THIS GRILL- so easy and always great results!
2) Pit Barrel Cooker: Ugly Drum Smokers or UDS have been a "thing" out in the BBQ community for a while, but now you don't have to go to the trouble of making your own because Pit Barrel has taken all the guess work out for you and created a perfect grill and smoker. This thing produces wonderful results everybtime! I think it is the combo of the materials, size and convection action but everything tastes wonderful off this thing, and it is super easy to use. You can hang meat from the steel rods at the top for smoking or grill on the top for ultimate versatility. Plus, everything is made in the USA and the company is owned by a US Veteran so you can feel good about your purchase!
3) Minimax Big Green Egg: This convenient sized Big Green Egg really rocks my world. You can easily move it with 2 people so you can take it on the go to have an Eggsperience wherever life takes you. Because it is smaller it also takes a shorter amount of time to get going versus the larger BGE, making it perfect for a weeknight cook for me and hubby. You can comfortably cook for 2-4 (4 being the max). If you want the Egg ceramic cooking experience with more convenience and portability, this one is for you!
Gadgets:
4) Kettle Pizza: People love, love, love pizza on the grill (I should know I made it on National TV for you!). This device easily turns any standard Weber Kettle Grill into a pizza oven. You can also bake other dishes on it as well. This turns out pizzeria style pizzas in about 10 minutes!
5) Smoking Gun: This was on my list last year too but it deserves a second year in a row because it is just so damn cool. You can add cold smoke to virtually everything with this cool handheld smoker- just check out the smoked Old Fashioned and Smoked Pecan Pie I made with this. This gadget is perfect for the foodie who has everything, the mixologist, or the person who loves to add smoke to everything.
6) The Flame Boss: The key to a good cook is temperature control, and the Flame Boss maintains the temperature of your grill/smoker while also monitoring the internal temp or your meat and your grill. It pretty much takes all the guess work out for you so you don't have to be glued to your smoker all afternoon. It is now wifienabled to you can monitor your smoker on the go! Pretty awesome!
7) The Thermapen MK4: The redesigned Thermapen is now even faster, waterproof and just better than the old one! It produces 2-3 second readings, is waterproof and is backlit – perfect for all grilling/cooking conditions. If you don't want to spend this kind of dough, I recommend the Thermopop at $29- this would be a great stocking stuffer!
Cookbooks:
8) If you are going to get one cookbook this year let it be Meathead's Book- "Meathead, the Science of Great BBQ and Grilling". Meathead is a foodscientist and can give you the why/what/how and methodology for just about anything you want to cook.
Rubs
9) Rubs- no stocking would be complete without a great rub. Some of my favorites are: Dizzy Pig, The Shed BBQ, Oakridge BBQ, Hard Core Carnivore.
Miscellaneous
The YETI Tumbler or the Kodiak Tumbler
10) The Yeti Tumbler: Yeti is known for their awesome (and expensive) coolers that keep ice cold for days. These tumblers do the same- they will keep ice cold up to 24 hours. There are also a lot of cool tumblers out there with the same technology such as the Kodiak cooler. This is a pricey tumbler but your drink will stay cold for a LONG, LONG time.