Pork Tenderloin may just be the most versatile meat I know how to cook.
It's a perfect vehicle for lots of different flavor combinations; it is also lean, and pairs well with a variety of side dishes. Leftover pork tenderloin also goes well with just about anything you put it on: salads, sandwiches, pizzas- the list is endless.
This glaze for this pork tenderloin has me super excited because it includes some of my favorite ingredients: mango, ginger and rum. The glaze is fairly easy to make and can be manipulated with ingredients you have on hand to produce different results. It has a nice sweet kick with a little heat, and pairs well with the "Island Spice" rub I applied to the pork before grilling.
This recipe, with its Island Rub paired with a mango-ginger glaze, makes you feel a little Caribbean without having to go anywhere. Like listening to a Jimmy Buffet tune.
Print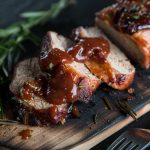 Grilled Pork Tenderloin with Mango Ginger Chutney Glaze
---
1

lb pork tenderloin (if using

2

pork tenderloins, double the rub and glaze recipes)
Island Spice Rub:
2 tsp

sea salt (I use smoked sea salt)

1/2 tsp

fresh ground black pepper

1 tsp

ground cumin

1 tsp

chipotle powder

1 tsp

cinnamon
Mango Ginger Glaze:
½ cup

mango ginger chutney

½ tbsp

butter

1 tbsp

dark rum

1 tbsp

lemon juice or the juice of ½ large lemon

1 tsp

(or more) lemon zest

½ tbsp

honey
---
Instructions
Combine rub ingredients. Next, apply a light coating of olive oil to pork tenderloins. Apply the rub generously on the pork using the entire mixture.
Meanwhile, start working on your glaze. In a sauce pan, combine all ingredients and let simmer on low for 10 minutes. Divide the glaze evenly among two bowls- one to use as a glaze for grilling and the other to serve with the pork at dinner.
Preheat your grill to 375 degrees creating a direct and indirect cooking zone. Cook the pork tenderloin on indirect heat for 6 minutes per side, for a total of 12 minutes.
Coat with with the glaze on both sides before the final sear. Make sure your "direct" side whether on gas or charcoal is nice and hot – ideally at 400 degrees or slightly higher. Sear the pork on each side for 4 minutes or until an internal thermometer (I suggest the instant read thermapen) registers 145 degrees. Pull off the grill and tent under foil for 10 minutes.
Serve the meat with additional glaze and your favorite veggies. I paired this with an arugula salad with Curried Ranch Dressing. I must warn you, the glaze on this pork is HIGHLY addictive!
*Affiliate links have been used in this post
Check out these related posts!